Buy Again After Short Sale
Short Sale sellers often wonder when can they buy a home again. How long do they really have to wait? While there are a few limited programs where buyers can purchase almost immediately, the truth is that the bulk of home buyers are going to have to wait to buy again after short sale.
Freddie Mac currently has a rule that buyers must wait four years to buy again after short sale—unless there are extenuating circumstances. And, Fannie Mae recently announced that effective August 16, they will be following suit and the four-year waiting period will apply to Fannie Mae guidelines as well.
Specifically, the waiting period requirements for borrowers who have had a previous deed-in-lieu of foreclosure or pre-foreclosure sale are being updated to now require a four-year waiting period; though a two-year waiting period will be permitted if the event was due to extenuating circumstances and the loan complies with all requirements specific to a deed-in-lieu of foreclosure or a pre-foreclosure sale due to extenuating circumstances, as specified in the Fannie Mae Selling Guide. The loan-to-value restrictions previously tied to different waiting period timeframes are also being removed.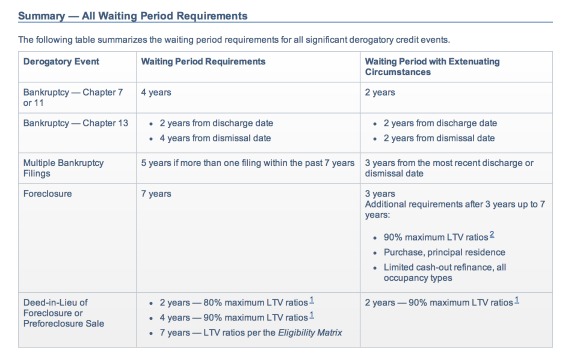 What does this mean for the market?
With less buyers qualifying for Fannie Mae backed loans, will this change our economic climate? Robyn Trinci of Prospect Mortgage believes that buyers may re-think their decision if the plan was to take the loss now, so they can purchase again in two years. "Depending upon their hardship," Trinci states, "you may see homeowners who want to see if there are some other options available."
Trinci also believes that this may negatively impact the market as this new rule will eliminate homeowners that have re-established themselves and are ready to buy now. However, for the buyers who had a legitimate and verifiable short-term hardship, they will be able to purchase after two years if they can provide the qualifying documentation to the mortgage lender. For these buyers, I would say start a folder and document the events so you can easily provide this in the future rather than recreating those items down the road."
Help Is Available
The good news is that help is available. There are still some opportunities for buyers to purchase again after short sale without obtaining a loan that will be resold on the secondary market to Fannie Mae or Freddie Mac. Lisa Kirsch-Lorenc of North Island Credit Union states that many smaller institutions that have portfolio products may be the way to go. In speaking about the products at North Island, Kirsch-Lorenc states, "Our portfolio products are ARM products, and some people are scared of adjustable rate mortgages. However, if you are looking to get into a property and do not qualify for some of the other products due to significant credit issues, this may be the way to go." Kirsch-Lorenc reminds me that it's important for those interested in portfolio products to have participated in a short sale for some verifiable reason, and not just because the seller was mad that they were upside down on the mortgage and decided to strategically default.
While the big news is that the guidelines have changed, the good news is that there are ways to get qualified buyers into the right homes. All you need to do—it seems—is find the right mortgage product for your client.