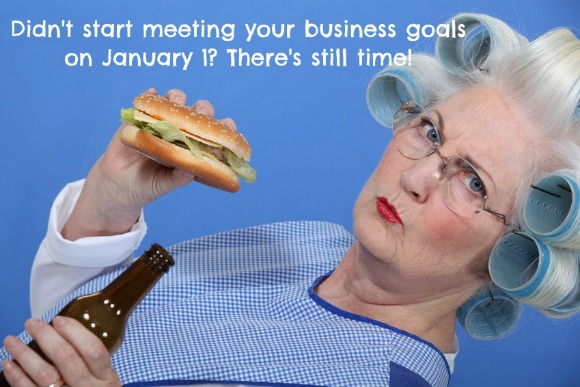 With the first week or so of 2014 now behind us, how are you feeling about 2014? If you are like most real estate agents (and most people), you get supercharged in the later part of the previous year to make the New Year the best that it can be. You plan your new diet; you join a new gym. You craft a new business plan that is going to lead you to more real estate closings than you have ever had before.
The truth is that sadly, at some point, most of us lose momentum. It's already hard for me to pass an In-N-Out Burger or a Five Guys without thinking about having a burger and fries—and I am not even one month into the New Year.
Statistics show that it takes ten days to completely cleanse the body and reduce cravings for such temptations as sugary desserts and salty snacks. So, if you can maintain a healthy diet for a period of ten to fourteen days, then it's very likely that from that point forward you will be home free.
The same goes for your daily routines as a real estate agent. If it takes ten days to get the toxins out of your body, could the same also apply to your real estate habits? What if I told you that you only had to maintain a disciplined work schedule for the next ten business days? Would you be able to do it? Would you be able to time block, prospect, market, and set appointments—if only for the next ten days? And, do you think that possibly your huge results would motivate you to continue to ten more?
If you are looking for some activities that can boost your real estate income in 2014 (even when you aren't certain what to do next), check out my list of 14 real estate moneymakers for slow days in 2014:
Call a few friends and past clients. (If possible, remind them that you are still in the real estate business.)
Update your database. Make sure that all of your past clients from the last few years are included on the list. Double check addresses by accessing your MLS tax rolls to make sure that your past clients and sphere of influence has not moved on without you.
Have a look at your website. Make sure that all of your contact information is up to date, and take the site on a test drive. Do the links still work? Is the information still timely?
Review your agent bio (and your photo). Is the information up to date? Does your bio discuss the benefits of working with you? Does your photo actually represent what you look like now?
Check your marketing materials, and refresh them if they do not contain current information.
Look into an email campaign or proofread any email campaigns that you already have in use. Check or create auto-responders so that you have an online marketing plan that maintains top-of-mind awareness with your clients.
Develop a prospecting plan. Draft letters from scratch or purchase a sequence of letters to use when prospecting for new buyers and sellers. (Check out Marte Cliff's awesome prospecting letters if you are looking for something to add to your bag of tricks.)
Continue to amp up your position as a neighborhood expert. Preview properties available for sale in your area—even if you do not have buyers for those specific properties.
Consider incorporating FSBO conversion as part of your 2014 business plan. Offer something of value to owners of those properties.
Update the photos on your listings or make and post videos of your listings to YouTube.
Have a look at your current listing presentation. Does it demonstrate you as knowledgeable and tech-savvy? If not, think about how you can incorporate more of that message into your current listing presentation—possibly even migrating the presentation to your tablet if you have not already done so.
Develop a program for marketing Expired listings. Look into available programs or create your own, and then set aside time to put that program into action.
Create a Facebook fan page and consider an online social media posting plan so that you can engage friends and members of the local community through your social media posts.
Review your current software and apps. Are you using the latest and greatest programs in order to get the job done? Or, are you still behind the times using outdated methods? Look into or sign up or professional development courses that will help you to be the best that you can be.
A friend of a friend told me that her mother (a real estate agent) goes to the office in order to play a good game of cards. There's a lot more to real estate than a game of Bridge at the office. With these fourteen activities and a little bit of discipline, you should be well on your way to success in 2014!