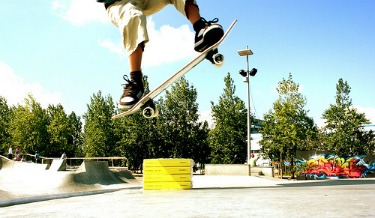 I've just spent the last few minutes watching 'fail' videos on YouTube. I thought that I could insert one here in order to make a strong point about how the Treasury modification program (HAMP) and the Treasury short sale program (HAFA) have been fairing. But, the truth is that all of the 'fail' videos involve small children or adults getting involved in some pretty harry activities—things that readers of the blog should not try at home.
So, instead, take my word for it that these programs have continued to demonstrate failing results—far worse than the skateboarder who does a face plant, or the boy who tries to flip off of his bed and decimates the ceiling fan.
Just last week the Deputy Chief of the Homeownership Preservation Office at the Treasury set out to defend HAMP before a House Committee by stating, "Without HAMP, homeowners would have far fewer ways of coping with the worst housing crisis in generations. Instead, their fate would be left solely in the hands of the same mortgage servicers whose standards are widely recognized to be in need of reform."
Since the program began in March 2009, participating servicers have offered 1.6 million trials and made 816,000 permanent modifications. If you recall, Obama set out to see between four and five million permanent modifications (nationwide) through this program. Interestingly, 10,500 permanent modifications received a principal write down through the Principal Reduction Alternative that began in January of this year.
HAFA, the short sale and deed-in-lieu alternative, has resulted in less than 16,000 completed files since it launched in April 2010. (Again, this was another program that had set out to help millions of homeowners nationwide.)
In my efforts to consider this new information and the number of completed HAFA transactions (16,000), a few things come to mind:
I'd be willing to bet dollars to doughnuts that more than 16,000 real estate agents nationwide have obtained HAFA Certification (ironic, huh?)
I'm wondering if this epic fail should be blamed on the Treasury or on the participating lenders who seem to have some issues with efficiency and productivity ("whose standards are widely recognized to be in need of reform").
Either way, the latest Treasury information on HAFA and HAMP could be perceived as an Epic Fail—the kind that you might see on YouTube. But, whose face will be doing the face plant?
Photo: flickr creative commons by petter palander