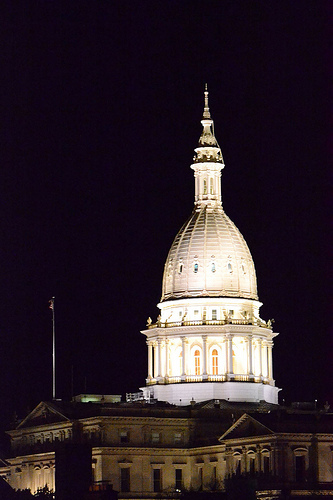 Hindsight is usually 20/20, and it seems that the great robo-signing debacle of 2010 may soon be in our past. You recall the incident, right? When news agencies began reporting that banks were foreclosing willy-nilly without being able to prove that they had the legal right to do so. Well, that's all gonna be over very soon.
According to dsnews, federal and state officials announced late last week that the government and 49 state attorneys general have reached a $25 billion agreement with the nation's five largest mortgage servicers to address "loan servicing and foreclosure abuses."
The settlement agreement with the nation's top five servicers (Bank of America, JPMorgan Chase, Wells Fargo, Citigroup, and Ally Financial) provides financial relief to homeowners and establishes new homeowner protections. "This historic settlement will provide immediate relief to homeowners – forcing banks to reduce the principal balance on many loans, refinance loans for underwater borrowers, and pay billions of dollars to states and consumers," said HUD Secretary Shaun Donovan. It is also interesting to note that the settlement will not preclude the government from pursuing criminal or civil, and borrowers and investors can still pursue individual or class action suits against the banks for robo-signing grievances.
Sounds like a lot of money, right? $25 billion dollars. Well, here's the breakdown:
The $25 billion will be distributed in two ways: $20 billion is designated for financial relief to borrowers, and $5 billion in cash will go directly to federal and state government agencies.
The $20 billion in financial aid to borrowers will further be broken down into three categories: 1) $10 billion has been designated to principal reductions for homeowners currently delinquent or "at imminent risk of default"; 2) $3 billion has been earmarked for the refinancing of loans for underwater homeowners; and 3) $7 billion is to assist homeowners through other means such as short sales, forbearance, relocation assistance, and aid for service members who have taken losses on their homes due to relocation orders.
So, when someone ran the numbers, they figured out that foreclosed homeowners are estimated to receive about $2,000 after losing their homes.
In addition to the $25 billion, the five servicers have agreed to a new set of servicing standards. That is, servicers have agreed to notify borrowers 14 days before referring their loan to a foreclosure attorney; adopt procedures to oversee and ensure proper conduct from all third-party providers; and discontinue dual tracking (the processing of a foreclosure while a homeowner is pursuing a loan modification or bankruptcy). The servicers have also agreed to establish a single point of contact for all borrowers who contact their servicer regarding a difficulty to make monthly mortgage payments.
Just like all of the other attempts to help those that are or were in financial distress, we will have to follow this one in order to see how it plays out.
Source: dsnews