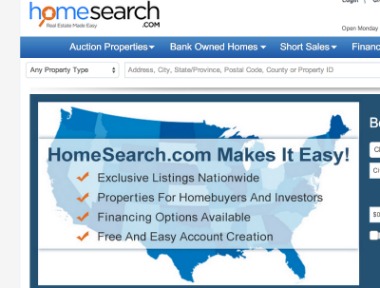 Just the other day, we learned that one of our short sales with Nationstar was going the way of the online auction. However, it was not the Auction.com online auction that we've been stewing about for the last several months. It's a different online auction website called homesearch.com
What Is Auction Site Homesearch.com?
Having not heard much about this site before, I decided to do a little bit of research. I started at the homesearch.com website, where they actually do not provide too much information about who they are. This is what I found:
Who owns the properties for sale on HomeSearch.com?
HomeSearch.com markets and sells both distressed and non-distressed residential real estate. Distressed properties are typically sold through the foreclosure sale and become "bank owned" (i.e., real estate owned "REO"). Another type of distressed property is a short sale, which is when real estate is sold by the debtor/owner whereby the sales price is insufficient to pay off the current mortgage or liens. As such, short sale purchase opportunities require the bank or mortgage servicer to agree to the purchase price and accept less than the current mortgage owed. In contrast, the sale of non-distressed properties typically resembles a traditional retail real estate transaction.
Is a fee required to submit a bid? 
There are no fees to bid; however, you must register for the auction event. During the event registration we may place a hold of $2,500 on your credit card before you can place bids on properties within the event. If you do not purchase a property, the hold will be removed within 24 hours after the event ends. If a property is purchased, the hold will be held until your earnest money has been received by the escrow/closing company, at which time your hold will be released. If you purchase a property and do not complete the transaction your credit card will be charged for the full $2,500.
The issue of the $2500 on the credit card does not give me such a warm and fuzzy feeling. Specifically, the site says that if you do not complete the transaction, there is still a charge on the buyer's credit card. It would seem to me that buyers should still have their due diligence period in order to provide further investigations.
More on the Nationstar Homesearch Relationship
In May, Inman reported that Nationstar is out to compete with Zillow, Trulia, and realtor.com by creating homesearch.com—a site that will contain not only homes currently available as short sale and REO, but also all listings via IDX.
According to the article, "Nationstar envisions that consumers and real estate agents who come to its site will be able to list their properties, manage them, sell them, buy them, and look for "downstream" mortgage, title, appraisal and closing services." This is a pretty scary prospect. Statistically, there is an 86% chance that the real estate professional will be replaced by a computer. If homesearch.com succeeds, many real estate agents may be doomed.
However, given the fact that anything done by the lenders is generally very inefficient, I'm not going to start looking for a new job. By the way, I just searched on homesearch.com for homes in four of the cities in San Diego County and none has even a single property in the homesearch.com auction. So, if this homesearch.com thing is going to take off, they've got a long way to go.