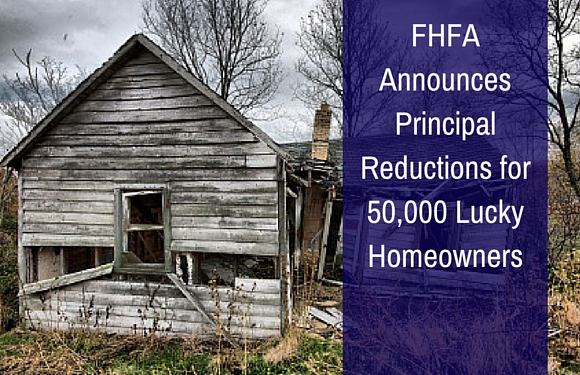 Did you hear the news? It's true. Fannie Mae and Freddie Mac will be reducing the principal for 50,000 underwater homeowners (homeowners who still owe more on their home than it is worth).
As reported in Wall Street Journal, approximately 50,000 homeowners will be eligible to have their mortgage balances reduced under a plan approved by the federal regulator of Fannie Mae and Freddie Mac.
Approved by the Federal Housing Finance Agency, this plan marks the first time that Fannie and Freddie will reduce mortgage balances on a large scale for struggling homeowners.
The article goes on to state
Fannie and Freddie—which don't make mortgages but rather buy them from lenders and wrap them into guaranteed securities—would also forgive principal only in cases where they determine the companies would lose less money with that option than foreclosure or other foreclosure-prevention methods. In addition, the new program will likely be limited to mortgages whose outstanding principal balance is under a certain dollar amount, people familiar with the matter said.
Why Now? What Do these Principal Reductions Mean?
At the latter end of the Great Recession, many other lenders did offer principal reductions to certain borrowers. However, as the article states, this announcement marks the first time that a GSE will offer a principal reduction. So, it is very interesting that this offer is occurring so late in the distressed property game.
Remember that people don't pay their mortgages directly to Fannie Mae and Freddie Mac. Other banks and lenders, such as Bank of America or Wells Fargo, service those mortgages.
Curious whether you or one of your clients will be the lucky recipient of a principal reduction? The first step would be to ascertain whether the client has a loan owned by Fannie Mae or Freddie Mac.
Click here to take that first step and figure out if Fannie Mae or Freddie Mac owns a loan.
Looking for short sale assistance? We can help. Contact our office for all of your distressed property needs.