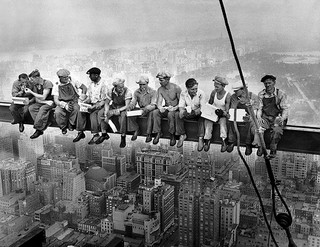 Last Thursday at 9:56 a.m.—just four minutes prior to our biweekly short sale webinar—some construction workers behind our office building accidentally cut into an underground cable the size of the tree trunk. Telephone and Internet service was obliterated in a two city blocks radius. Angry executives from all of the local businesses were immediately out to examine the problem and share their own two cents. Each business leader was attempting to figure out how to run their businesses without phone or Internet service. While this was going on, the very same construction workers continued to work on their assignment, suggesting that someone contact the telephone company, and placing the blame for their error on a third party not presently on site.
Once it was determined that this fix would not occur in five or ten minutes, we contacted local affiliates to borrow space and our employees were back to short sale processing in less than 30 minutes. After our makeshift workplace was up and running and webinar registrants were emailed a note of explanation from an iPad with 3G, I then proceeded to investigate whether the telephone company had actually been notified that a big problem needed repair. After calling the local customer service manager and leaving a voice mail, I then proceeded to call the toll-free emergency number in her recorded message. 15 minutes elapsed before a gentleman came onto the phone. He took the information and said that a technician would be out to the site by 6:00 p.m. the following day. When I explained to him that two city blocks were now without Internet and phone service and that I merely wanted to confirm that local dispatch was already working to address the problem, he said that he could not confirm anything. He had no way to contact a local dispatcher. All he could do was put in a ticket and arrange for manager to call me back within two hours. That was that. Two hours and seven minutes later I received a recorded message on my mobile phone to alert me that someone would be out to address the problem within 24 hours, and then I should "press one to leave a message for the manager." So much for personal service.
By the time I had received that recorded message, I had already learned that the telephone company would be working through the night in order to restore phone service to the 200+ phone lines and 40+ businesses that were impacted by this error.
While the telephone company was certainly not to blame for the problem as it was not their crew who made the error, the inability of the customer service representatives to provide specialized, higher-level customer service was completely frustrating. Employees that answer the phones can do nothing but gather information about problems and open tickets. These individuals have a small menu of activities that they can perform and they know nothing about what to do if they receive a call for an item not on the menu.
Three Tips for Short Sale Processing
Here are three things that can be learned from this crazy and chaotic experience that can help you with your short sale processing and in real estate in general:
Always have a backup plan. When negotiating with a short sale lender or trying to sort out a difficult short sale problem, it's best to have two or three plans up your sleeve—just in case the first one doesn't work. Since I was unable to get decent support from customer service, I took it up a notch, using my iPhone to locate a few higher-level executives that might be able to think outside the box.
Always be able to adapt quickly. After cursing and swearing for just a few minutes, I picked up the pieces and our employees were back at work at an off site location within 30 minutes. Being able to adapt quickly when strange things come your way (a lost buyer, a bad bpo, a looming foreclosure date) is often the key to success in real estate.
Don't talk to the hand. It's futile to try and get water from a stone, so don't spend much time trying to do so. If you need to solve a tricky problem with any short sale or general real estate transaction and the person that you are working with cannot or does not know how to support you, then you have got to move on. Don't waste your voice talking to the hand.
I'm pleased to report that by the following morning all systems were a go, phones and Internet were functional again and everyone was back in business. Good lessons sometimes come out of bad experiences.